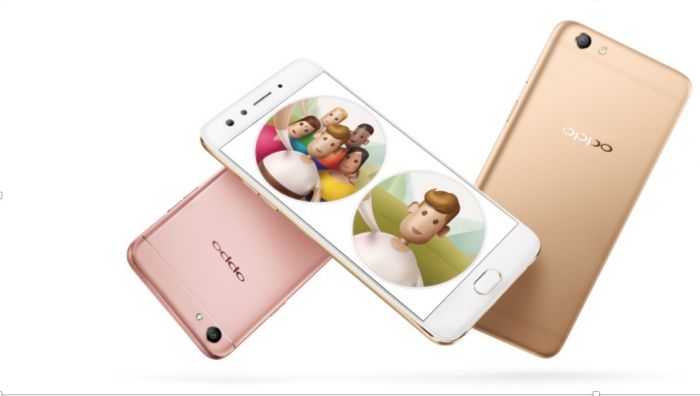 OK, that might not be an official word as of yet, but if Oppo's new F3 Plus takes off, it might just well be. Now wide-angle lenses aren't a new thing. We've seen the likes LG and others do it before, but they're usually for the rear camera. Oppo's new handset, and unsurprisingly the third in its Selfie Expert range packs a 120 degree, 16 MP, wide-angle sensor, to get your and your BFF's, random strangers you met on the street and possibly your dog in at the same time.
Oppo notes that the rear camera module was "co-developed with Sony, equipped with a customized IMX398 sensor for serious photography."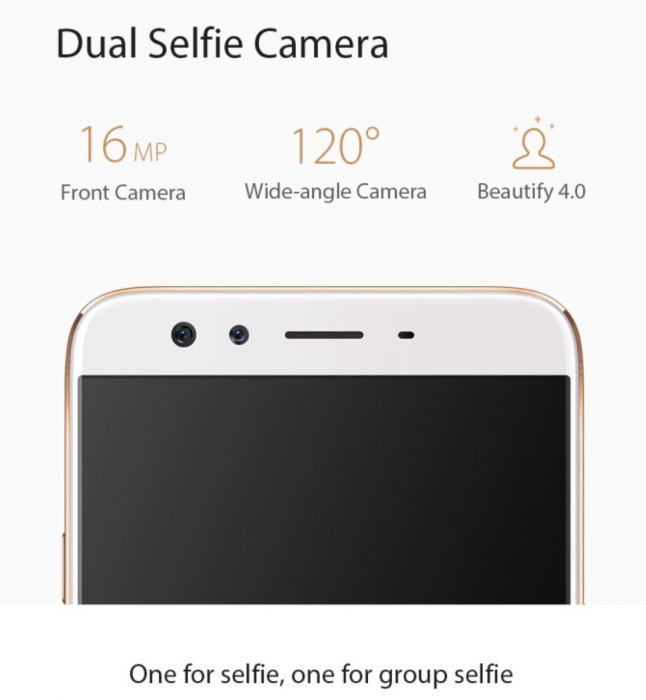 Rounding out the specs, the Oppo F3 Plus has a 4000 mAh battery which uses Oppo's proprietary VOOC rapid charging. They reckon that this should get you an extra two hours worth of talk time off of sticking it on the charge for five minutes. Other specs include 4 GB of RAM and 64GB of storage to put those extra photos of your favourite subject. The Oppo F3 Plus has a 6", Corning Gorilla Glass, 2.5D screen, which is starting to be yet another new normal for bigger phones, and will come in black and gold.
Location, March 23, 2017 – OPPO unveiled today the F3 Plus, the latest model of its Selfie Expert series. The F3 Plus sports the brand's first dual front selfie camera including a first-of-its-kind 120° wide-angle group selfie camera. Priced at XX, the F3 Plus will go on sale from April 1st in India, Vietnam, Indonesia, Philippines and Myanmar.
OPPO's F3 Plus' dual front camera will answer urban dwellers' pursuit of snapping perfect selfie photos with a 16-megapixel camera and group selfie photos with a 120° wide-angle camera. The rear camera is co-developed with Sony, equipped with a customized IMX398 sensor for serious photography. The F3 Plus is a high-end smartphone that is efficient, long-lasting, secure and beautiful, addressing today's highly-demanding mobile-first world.
"OPPO is an industry leader in the Selfie Revolution with the recent 'Selfie Expert' F-series. Our brand has been growing rapidly across Southeast Asia and other regions around the world. We became the No.2 smartphone brand in India in 2016. The F3 Plus marks the beginning of a new 'Group Selfie' trend, and reinforce our position as the Selfie Expert," said Sky Li, OPPO Vice President and Managing Director of International Mobile Business.
"The F3 Plus was created for urban warriors, selfie photo aficionados and lifestyle mavens who want with the need to capturing flawless selfie photos, and our groundbreaking dual front camera smartphone will deliver the photos they seek. The F3 Plus is also packed with outstanding performance, premium design and amazing battery life," Sky Li added.
Remarkable Wide-Angle & Dual Front Selfie Camera Define the Next Expert-Class Photography
OPPO's devotion to perfecting the selfie camera technology began at the very start of their business nine years ago, when no other manufacturer focused on the selfie snapping capturing trend. For example, in 2012, the N1 model pioneered the world's first rotating camera. In 2016, the F1 Plus was the first-ever device to sport a 16 megapixel front camera. Taking one step further, the revolutionary dual selfie front camera will take the standards of camera hardware and selfie photography to new heights.
Set to be the next ultimate 'Selfie Expert', the F3 Plus features dual front selfie camera. The 16-megapixel front camera builds upon the technology offered by the previous 'Selfie Expert' F1s. At the core of this camera is a 1/3-inch sensor, which increases light exposure and clarity of images. The large f/2.0 aperture allows for great depth-of-field effects – clear foreground focus matched with the perfect amount of background blurriness.
In becoming the 'Group Selfie' secret weapon, the first-in-the-market, specialized 120-degree wide-angle 8-megapixel camera captures a much wider view, up to 105 percent more than a regular 80-degree lens. This allows even more people to enter the frame with minimized lens distortion, thanks to the 6P camera lens. The camera also features a ¼-inch sensor.
This group selfie camera is a reflection of OPPO's 'user-oriented' philosophy. With the built-in Smart Facial Recognition, the F3 Plus will notify users to switch to 'Group Selfie' mode if there are more than three people in the frame. Users can snap their Group Selfie at ease, without compromising image stability when taking the selfie with one hand.
The outstanding rear camera offers high-quality photography performance with fast focusing speed, noise reduction and advanced low-light performance. Powering the 16-megapixel rear camera is a brand-new 1/2.8-inch IMX398 sensor. This sensor is jointly developed by OPPO and Sony, which features Dual PDAF – dual phase detection autofocus technology. This new technology doubles the sensor's pixel array area where the photodiodes are embedded, necessary for phase detection autofocus. This makes for 40 percent faster focusing speeds even in low light. Paired with the large f/1.7 aperture, the resulting images are clear and breathtaking.
The post Introducing the Oppo F3 Plus, with more groufie. is original content from Coolsmartphone. If you see it on another news website, please let us know.