A lot of smartphones now come equipped with a blocking system to let you stop unwanted calls from repeatedly bothering you. On the HTC U11 I'm testing now, you can see that in action below..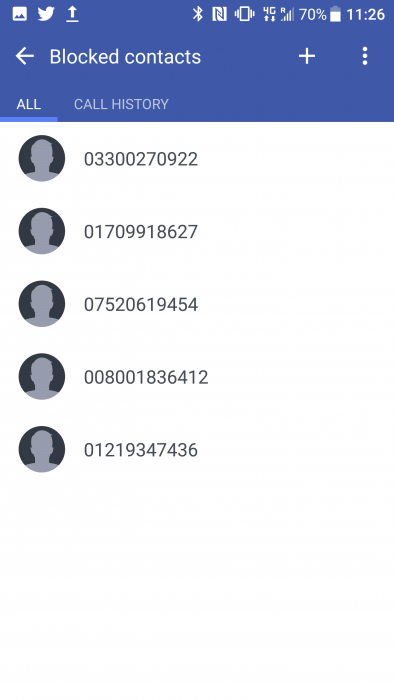 However, in the UK we have something called the "Telephone Preference Service", or TPS, which all cold-callers supposedly need to register with before they start calling you. If you, as a consumer, are on the TPS database, you shouldn't receive calls from those companies.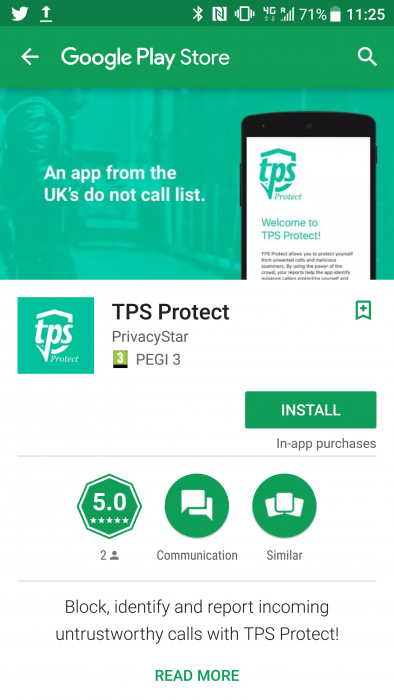 Now there's an app called TPS Protect which gives you an easier way to integrate your phone into this database – allowing the registration of your mobile number to the "do not call" list and the direct reporting of numbers that are bothering you. So, instead of just blocking, you can report and stop them hassling others via a "Trust Score".
Although the app is free and will let you see the "Trust Score" for incoming calls and file complaints, you need to pay 99p per month for the blocking of calls. That seems a bit nuts being as a lot of smartphones will block calls by default once you've added them to your block list, but there we go.
Full press release below.
New TPS Protect app launches to help put an end to nuisance calls
TPS Protect allows consumers to see if incoming calls might be a nuisance or scam caller,
helping consumers decide if they want to answer
9 August 2017 – Today the DMA launches TPS Protect, a new app to help consumers avoid nuisance and scam calls. Developed in partnership with First Orion, the app offers an easier way for consumers to avoid unwanted calls, register their mobile number with the Telephone Preference Service (TPS) and quickly register complaints about nuisance or scam calls. Available on Android and Apple handsets, users can benefit from the app as soon as it's downloaded, completely free. New users will also receive a free 60 day trial of the additional paid-for features available.
By using TPS Protect, users can both protect themselves and help others avoid nuisance or scam calls. The app is powered by its users, with every nuisance and scam call that is blocked, reported or complained about in the app helping to determine the Trust Score for that number. This means that every user's feedback helps TPS Protect to work better for all its users.
As part of the app's sign-up process users can ensure their mobile number is registered with the TPS, the official central opt-out register on which consumers can record their preference not to receive unsolicited sales or marketing calls. It is a legal requirement that all organisations – including charities, voluntary organisations and political parties – do not make such calls to numbers registered on the TPS unless they have your consent to do so.
Consumers will always be able to see the Trust Score for incoming calls, look-up, report and file complaints for nuisance or scam call numbers. For an additional 99p per month, once their free trial expires, users can effectively block any unwanted calls by diverting them direct to voicemail, with greater call filtering customisation, and the ability to create a custom Approved List and Blocked List.
Users can add numbers to their personal Blocked List to ensure they no longer receive unwanted calls, as well as using the Approved List for those calls they never want to miss. Custom Settings allow users to tailor the types of call they are happy to receive, for example blocking the majority of unwanted calls by setting your Trust Score to 5, but still receiving calls from specific groups, such as 'Charities'.
John Mitchison, Head of Preference services, compliance and legal at the DMA, said: "When it comes to scam and nuisance callers, don't fight a lone battle. Stand up. Join the growing movement of people fighting back. TPS Protect is an app for your phone that rates incoming calls using information from consumers. Each rating helps callers decide how trusted an unfamiliar call could be, from scammers with criminal intentions to someone you can trust. When scam calls get reported, their trust score drops. So your voice matters."
Robert Baker, European MD at First Orion: "Unlike other call blocking apps, TPS Protect does not access your phone contacts and never will. We respect and value customer privacy. We've launched the app today with data we have collected over several months of testing and the protection will get better for every person that downloads and uses the app. So we encourage people to join the movement and share the news with their family and friends, as the more people use TPS Protect the more we all benefit."
What's a Trust Score?
The TPS Protect app's Trust Score is an indicator created to help users work out who is calling and whether they should pick up or not. The information provided by users helps TPS Protect to better understand whether callers are legitimate businesses, nuisance callers or scammers, allocating an appropriate score according to all the information available. Once enabled on their phone, users can immediately start to see the Trust Score for any incoming call, enabling them to decide whether they want to pick up or not.
Users are able to set their Trust Score from 1 to 5, enabling them to control the overall level of protection they receive. A score of 5 is the highest level of protection, sending all telemarketing and scam calls to voicemail that have a trust score lower than 5, only allowing telemarketers that have received very few complaints and your approved list to ring your phone. A score of 3 will allow calls from most call centres, sending to voicemail those with a score of 1 and 2 which indicates many customer complaints. A score of 1 will allow all calls, including those from suspected scammers.
– ENDS –
For further information contact the DMA Press Office:
Tim Bond, Head of PR & Insight Ed Owen, PR & Content Manager
T: 020 7291 3328 T: 020 7291 3324
E: tim.bond@dma.org.uk E: ed.owen@dma.org.uk
About TPS Protect
TPS Protect is an app developed by the DMA in partnership with First Orion. The app is available for free to Apple (iOS 10.1 or above) and Android (4.4 and above) devices, including a free 60 day trial of additional features for new users. For an additional 99p per month, users can effectively block any unwanted calls by diverting them direct to voicemail, utilise greater call filtering customisation, and have the ability to create a custom approve and block list.
The post Register and check callers via the Telephone Preference Service is original content from Coolsmartphone. If you see it on another news website, please let us know.