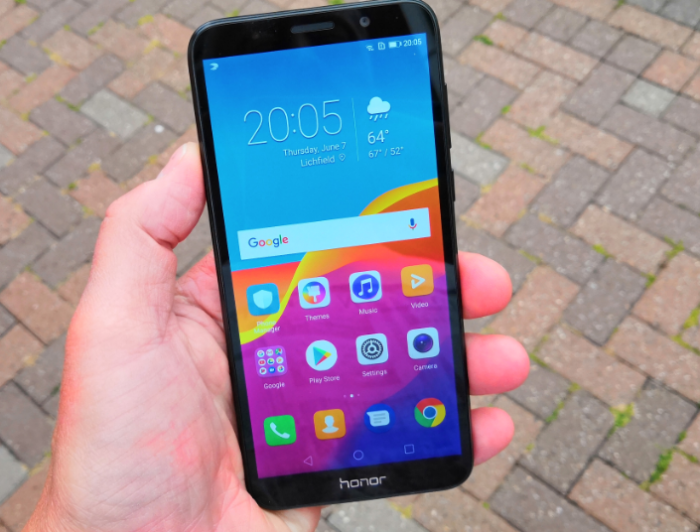 A few weeks ago I was lucky enough to get a hands-on with the Honor 7S. It's a budget smartphone and we'd been given a privileged early look at it.
When we asked about the price we were told that it would sell for "around $110". If you convert that it's around £82 / or €93 but, as we said at the time, it would "probably round up to £99.99 / €99.99 when it's on sale".
Well, guess what? We were absolutely bang on. Honor have just confirmed that the device is indeed going on sale for a mere £99.
For that you get Android 8.1, and a big 5.45″ 1440×720 18:9 295PPI screen. It's powered by a Mediatek MT6739 quad-core CPU, which is a bit of a departure for the company behind Honor (Huawei) as they normally use their own chips. It's a quad 1.5 GHz chip with 2GB RAM and 16GB of on-board storage. The end result, in terms of performance, is a tiny-bit laggy as you'll see from our hands-on video below. The cat liked it though, so…
Specs, as we mentioned before, include a 5 megapixel selfie camera, a 13 megapixel rear camera and there's a microSD card for expanding that 16GB of internal memory. You also get a 3.5mm headset jack, WiFi (2.4GHz) and Bluetooth 4.2. It'll be available in blue, black and gold according to the spec-sheet but we're being told that you can only get the black one at the moment.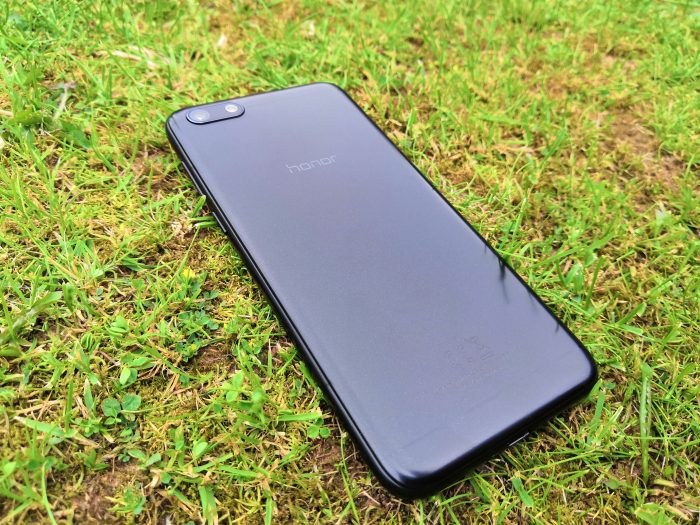 Head to Hihonor, Argos or Three to purchase it. Considering the price, it has a nice, large, screen and good looks. Gone are the days of chunky budget smartphones with naff screens and cameras. This gets latest version of Android and it has a strong and well designed frame.
Honor are highlighting that display, the "Loud Voice Call" function so you can hear calls in noisy environments, the LED Selfie functionality on the front camera and the "Smart Battery Management" which should keep the 3,020mAh battery working longer.
Oh, and don't forget that this one has a Dual SIM and microSD slot, so you can have two lines if you want. To find out more about this device, dive into our full preview.
Honor Launches 7S:
A Game-Changer for New Smartphone Users
Full View for All
[London, 28 June] – Honor, the trend-setting smartphone e-brand, today launches the Honor 7S smartphone. Featuring a vibrant FullView display, powerful receiver, and a LED flash on both front and back cameras, amongst other features, this new smartphone out-performs every other phone in its class. Priced at only £99 now even buyers on a budget can enjoy a premium experience with the Honor 7S.
Features such as the "Loud Voice Call" function and smart battery management mean users can rely on their smartphones when they are on the go. These useful innovations further demonstrate Honor's commitment to understanding the new generation of smartphone users and improving their experiences in the real world.
"We're excited to announce the launch of the innovative Honor 7S," said Michael Pan, President of Honor Western Europe Region. "By offering a smooth user experience at a competitive price point Honor has created a smartphone that is stylish and guarantees great performance for digital trendsetters."
Wilkin Lee, Honor UK Sales and Marketing Director adds "The Honor 7S has been created with our customers in mind. With a large, vibrant HD display, an incredible battery life and quality rear-facing and front-facing cameras the Honor 7S hosts remarkable features at an affordable price."
The Honor 7S will be available in black for purchase from June 28th onwards. Visit Hihonor, Argos and Three to purchase the latest quality offering from Honor at a competitive price point.
FullView Display
The Honor 7S has a vibrant 18:9 widescreen HD display. In keeping with the trend of full screen displays in modern smartphones, the Honor 7S features a 5.45-inch display in a device body that's still comfortable to hold in one hand, thanks to barely-there bezels. The 1440 x 720 resolution is unbeatable at this price point, delivering a better experience for viewing photos, watching videos, and getting more done.
Powerful Receiver
What use is a phone if the person on the other end of the line can't be heard? The powerful receiver with "Loud Voice Call" function on the Honor 7S ensures that calls come through loud and clear in any noisy environment.
Camera
With a LED flash on both the front and rear-facing cameras, Honor 7S outshines other smartphones in its class. The unique LED Selfie Light provides a natural and even light for selfies in the evening or in dimly-lit conditions. Quality photos are guaranteed with the 13MP rear-facing and 5MP front-facing camera.
Smart Battery Management
The Honor 7S also leads the pack in power capacity with its 3,020mAh* battery, which is backed by Honor's smart battery management. Simply put, that means users can enjoy using their phone all day without having to worry about recharging. And it also boasts a quad-core processor.
Dual SIM + Micro-SD Expansion
Honor 7S supports the simultaneous use of two SIM cards for data and phone calls, as well as a microSD card for data storage up to 256GB.
#Honor #ForTheBrave
The post The Honor 7S arrives in the UK is original content from Coolsmartphone. If you see it on another news website, please let us know.

Source: CoolSmartPhone.com News