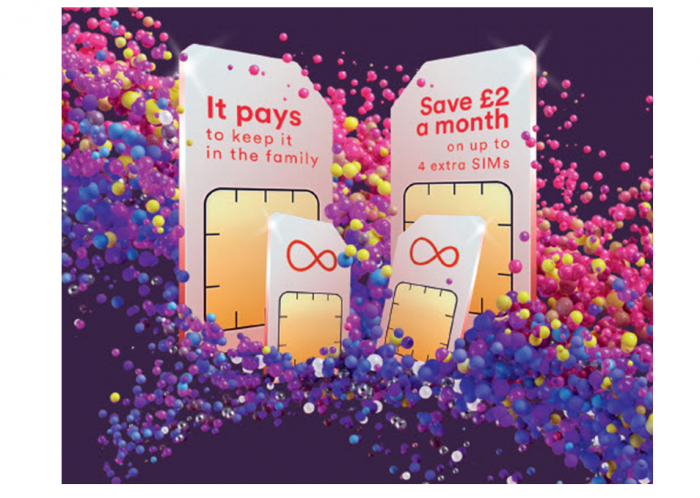 OK, so you're at home and you've got Virgin Media for your internet. You can browse safe in the knowledge that your devices are protected and your internet connection is safe and filtered.
However, what happens when you go out? When your son or daughter uses their phone outside of your WiFi?
Yep, they're subject to all sorts of nastiness again.
Virgin Mobile have a solution to this, called the "Family Plan". It's exclusive for Virgin Media customers who have broadband or TV services and delivers simplicity, safety and savings.
You can add up to five SIMs onto the Family Plan, saving £2 a month per additional SIM after the first. That means you can save up to £96 per year. It adds online security features, meaning that you can take control on phones no matter where your kids are. You can even set time limits.
The main account holder can view each mobile plan, manage data and device usage to keep track of all usage easily.
The security features are powered by F-Secure at no additional cost for 12 months. As well as immobilising devices after a certain time period, you can control which apps can be used, block content types (such as video) and locate your child securely.
Further information can be found in the press release below. Weirdly I can't find anything about this on the Virgin Media or Virgin Mobile website at the moment, so perhaps just call them on 0800 952 8046.
Virgin Mobile operates using the EE masts.
Virgin Mobile launches new Family Plan for savings, simplicity and safety across multiple SIMs
· New Family Plan offers Virgin Media cable customers easy way to manage multiple mobile plans
· Customers can save up to £96 per year on their mobile services
· Online Security features help parents manage their children's mobile usage
· Flexible mobile deals available so customers can mix and match to suit their family's needs
Virgin Mobile is today launching Family Plan, a new mobile offering which brings together SIMs, savings and safety in one place to help Virgin Media cable customers manage their family's mobile services.
This comprehensive new plan, which is available exclusively to Virgin Media customers who also take a broadband or TV service from the company, provides one account for multiple SIMs, making it easier for busy families to juggle their mobile bills. Customers can add up to five mobile plans onto their account and will be rewarded with a £2 monthly discount for every eligible additional SIM taken after the first – offering a total saving of up to £96 a year.
So families can always stay in touch and share important moments, Family Plan also comes with unlimited calls between family members on the account.
The main account holder can view each individual mobile plan, manage data and device usage and stay on top of how much is being spent across the account quickly and easily via the My Virgin Mobile app. Other members of Family Plan are also able to view their own individual usage and allowances through the app.
Virgin Mobile's multi-SIM plan also includes Online Security features, powered by F-Secure, to give parents peace of mind and to help protect their families – at no additional cost for 12 months. The award winning security features include:
· Time limits: Internet access and selected apps can be immobilised at specific times to help balance children's mobile usage and screen time
· App control: Allows parents to see what apps their children have installed and apply restrictions if needed such as completely blocking the app or adding time limits
· Content blocking: Enables parents to make decisions about the content they feel is suitable for their child to view such as certain video content
· Finder: Allows parents to securely locate their child's device and view the location
These controls can be accessed and amended by the account holder at any time via the F-Secure app.
Virgin Mobile's Family Plan gives families flexibility to choose from a variety of SIM Only deals or Freestyle plans – mixing and matching to suit each individual's needs. For example, customers could choose to have a 12 month SIM Only deal and two Freestyle handset deals all registered under one Family Plan account*. Customers will also be able to choose from Virgin Mobile's entire handset range so if the kids want an iPhone Xr and Mum wants a Samsung Galaxy Note 10, the whole family will find something for them.
Annie Brooks, Executive Director of Virgin Mobile said, "Juggling family life isn't always easy in today's digital world and the growing number of devices can make it even more complex. Our Family Plan aims to take some of the pressure off parents, making their family's mobile services simple, affordable and safe. Together with our unrivalled ultrafast broadband and fully loaded TV services, our Family Plan gives customers the ultimate line up of fast, flexible and reliable connectivity in home and on the go."
Virgin Mobile's flexible plans come with data rollover and data-free WhatsApp, Facebook Messenger and Twitter as standard and superfast 4G that's faster on average than Vodafone, Three, Sky and O2. Customers also have the freedom to change the airtime element of their plan every 30 days, so if they want more data or minutes they can pick a tariff that suits them.
Virgin Media recently launched new bundles, which for the first time bring together all of its services – broadband, TV, mobile and landline – into one package so customers can connect to everything they love for a great price. And for a limited time only, Virgin Media's top bundle, The Ultimate Oomph, is available for just £89 per month – the lowest ever price for this bundle. The Ultimate Oomph includes the UK's fastest widely available broadband with average download speeds of 516Mbps – seven times faster than BT and Sky – as well as a mobile SIM with truly unlimited data, texts and calls and top notch TV with two V6 boxes, unmissable Box Sets and more than 270 channels including Sky Cinema HD, Sky Sports HD and BT Sport in 4K Ultra HD.
The post Virgin Mobile launches Family Plan is original content from Coolsmartphone. If you see it on another news website, please let us know.
Source: CoolSmartPhone.com News