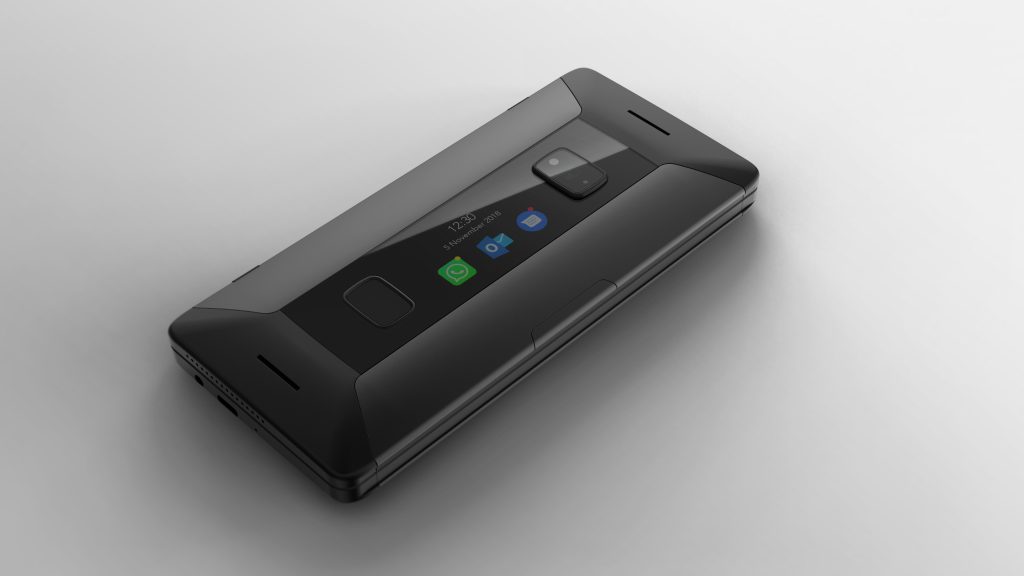 Last year we had the pleasure of being introduced a new device to the market in the form of the Gemini, which I was able to put through its paces in an extensive test for a few weeks. I was very impressed by it but unfortunately, with it being a Gen 1 device it had some problems that are often found in first products. This year Planet Computers the team behind the Gemini have been showing off their 2nd Generation device which is called the Cosmo Communicator.
It takes a lot of the areas where the Gemini was weak and improves upon them whilst also adding some new features to the device. the time has now come to have a look at the Cosmo and see if it ake up on the shortfalls of its predecessor. Having seen the specs I have high hopes for it too do this put without further ado lets dive in. The devices that I was able to see today were early prototypes so not all features were present and working. However, it did give me a very good idea of what to expect from the final device
One of the major issues I had with the device was that I could not see it ever being my daily driver as the notification method being utilised meant that for me it wouldn't be conducive to being my main phone for everyday use.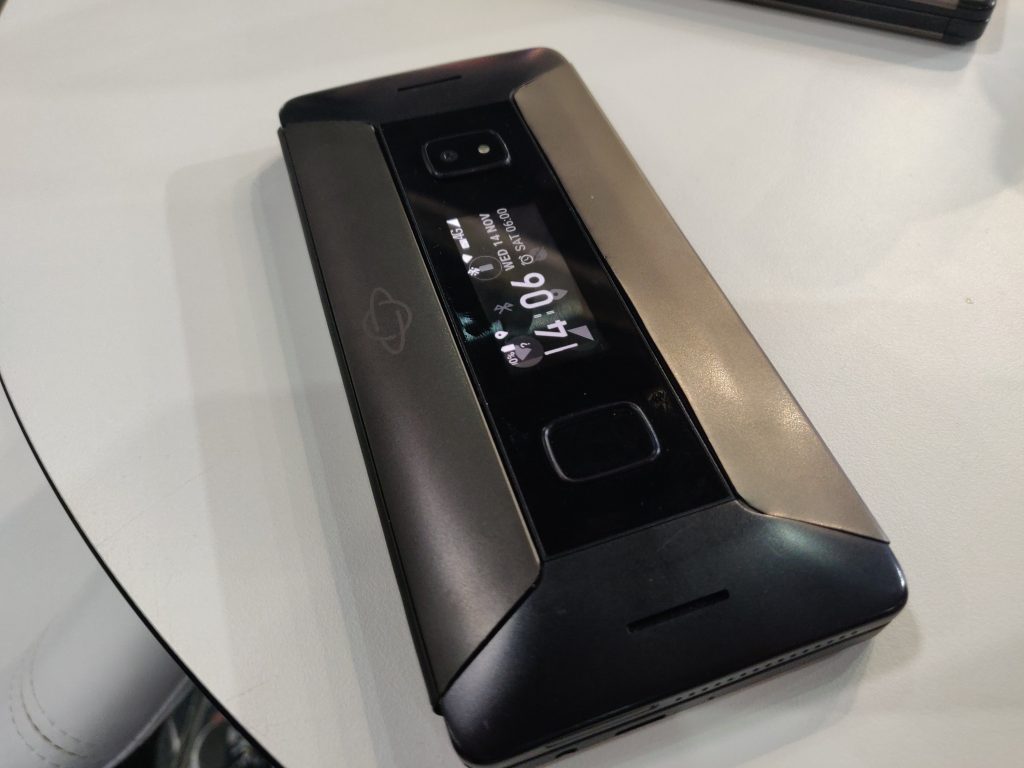 This has been addressed with the addition of a second 2″ OLED Touch display that is mounted on the outer casing. This allows you to interact with the device whilst it is closed and perform your more basic phone tasks. In addition to that second display, we also find an outward facing 24 MP camera as standard where it was an option previously. Another feature that I am happy to see is the fingerprint reader on the outer case making for a faster method to unlock the phone in a more secure manner. This fingerprint reader will also pull double duty a toggle switch to answer and initiate calls.
These are the main additions to the older design, the good news is that it has kept the feature that made the device unique the number one thing being the keyboard which as also been improved with the addition of a backlight. This is a great addition as it will allow me to work when I need to without having to work about not being in a bright room. I also found that even on the prototypes I used that the keyboard has been developed and improved quite a bit from my previous experience which was nice to see.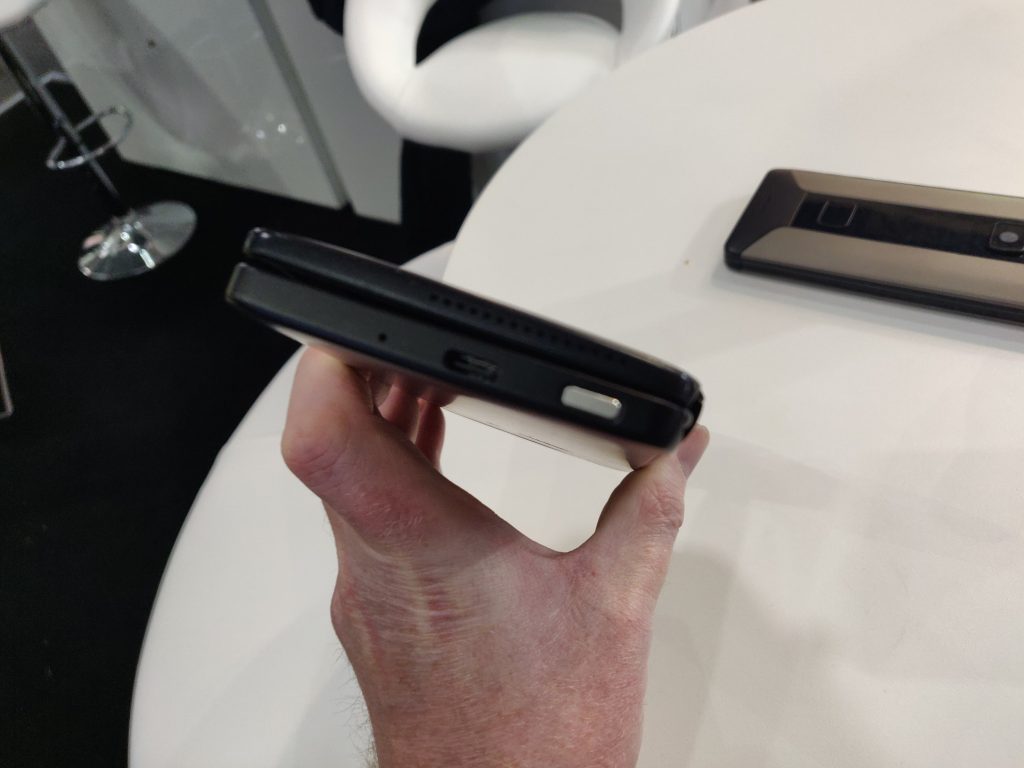 Still present are the two USB Type C ports which are incredibly handy as it allows for this to be used with multiple accessories simultaneously.
The other major updates are to found internally. The processor has been updated to now be the 8-Core Mediatek P70 processor which is assisted by 6GB of Ram and double the storage to 128GB memory which can, of course, be expanded by a Micro SD card. Graphics wise we find an ARM Mali G72 graphics processor allow for great productivity on the device and when connected up to an external display.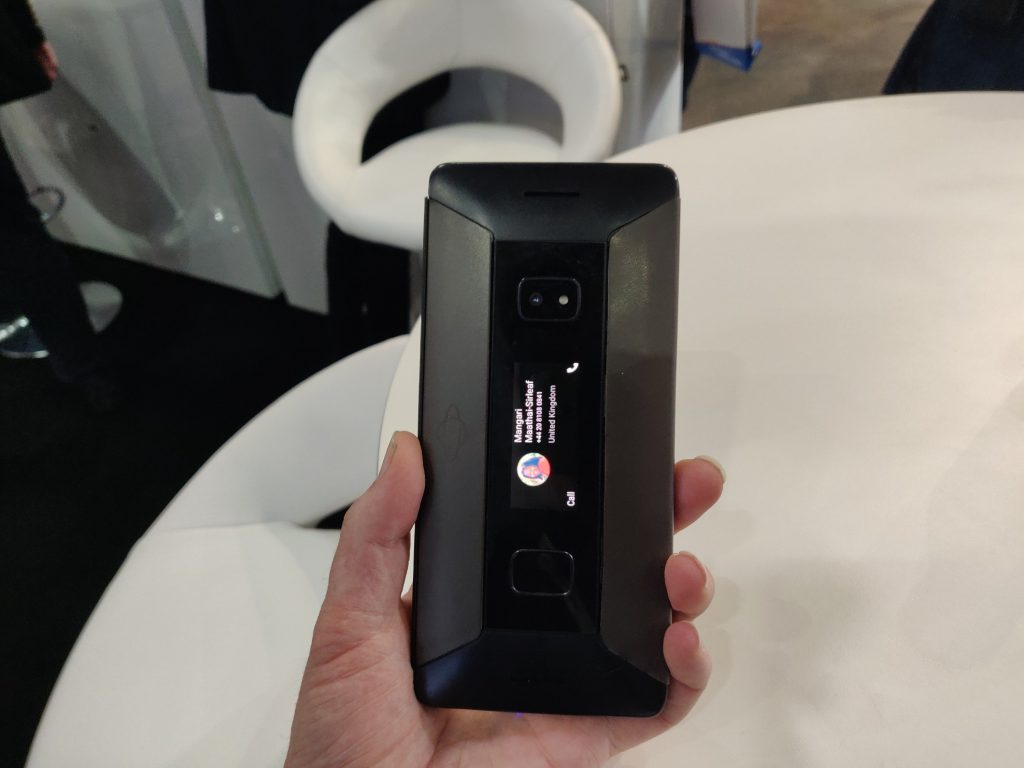 The device will also be running on Android 9.0 Pie allowing for you to ensure that you are running the latest and best possible version of Android. The OS is also accompanied by some pre-installed Planet Apps and the Planet taskbar for quick launching your regularly used apps.
Lastly, we now have the addition of NFC for use in contactless payment using Google Pay and this will also allow for fast and easy file transfers.
So that is about all I can say about the improvements as I mentioned the units I was able to use were all prototypes so I was not able to use all of the features but I was impressed by all the additions over the Gemini and it does make the Cosmo a viable option for use as a daily driver. Time will tell if I can actually do that and this is something that I hope to test once the device becomes available.
As for the Gemini device well things have not been standing still there either as Plant Computers have been developing the software and are now very close to having the green light in the rollout of Android 8 onto this device. That, however, is not all as it was announced yesterday (25/02/2109) that a new Desktop interface has been developed for the Gemini, it is called OXI.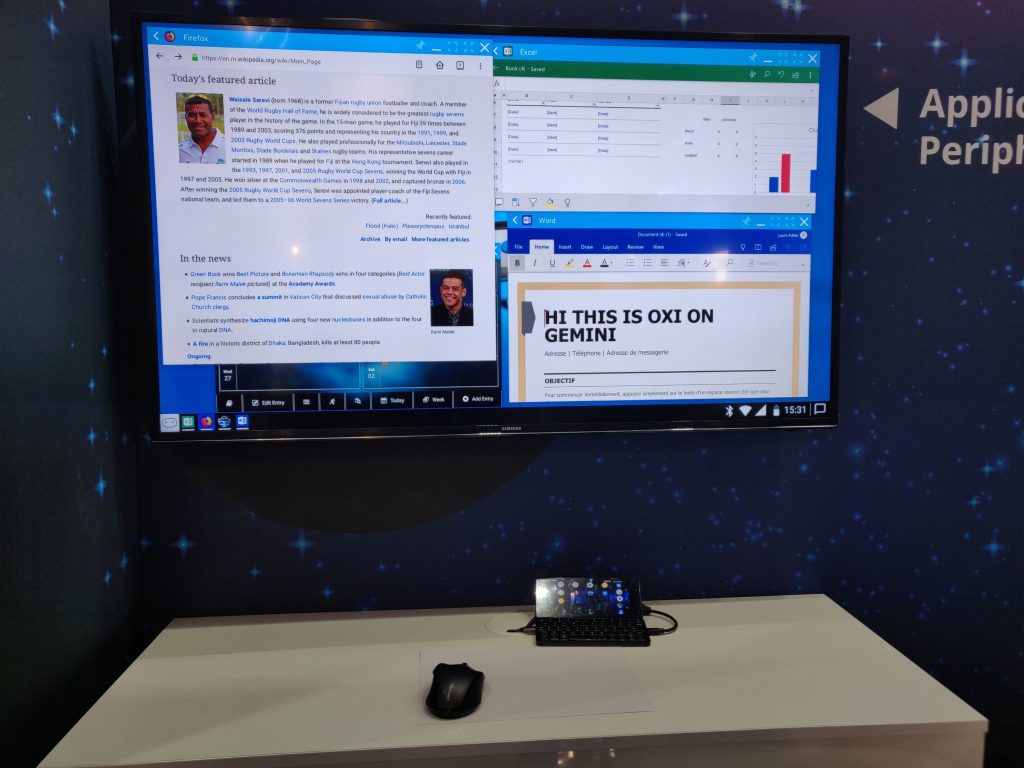 This will allow the user to plug into an external display and run all their existing app's in a desktop style environment allow enhanced multi Window mode and other benefits. OXI will be available as a subscription when you purchase the official HDMI cable (adaptor) from the Planet Store. OXI for the Gemini PDA will be available when purchasing official HDMI cable from the Planet store. By the looks of things, it will work in a similar manner to what we have seen from Samsung and Huawei in the form of DEX and Desktop Mode respectively. In addition to being able to run the apps on your device, you will also be able to run full apps via emulation if your setup to so. This opens a massive possibility of getting work done.
There is one more thing that has been announced and that is that the Gemini will now be able to run a new version of Sailfish called Sailfish X. This has been designed to take full advanatage of the hardware of the Gemini including the landscape 5.99″ display. you will also get full access to the Jolla App store along with OTA updates. You will be given end user support and full Microsoft Exchange services compatibility. The OS can be downloaded from Gemini for the price of €29.90 (incl. VAT)
So that about rounds up the latest developments from Planet Computers, Hopefully i will be able to revisit this when the new device goes into full production and we can answer my question of will it be suitable as my daily driver.
PLANET COMPUTERS TO EXHIBIT COSMO COMMUNICATOR AT MOBILE WORLD CONGRESS 2019
Planet Computers exhibits at Mobile World Congress 2019 as part of the official UK delegation
Planet Computers showcasing Cosmo Communicator
Meet Planet Computers at MWC: Hall 7, stand 7K40
Support Cosmo on Indiegogo: https://www.indiegogo.com/projects/cosmo-communicator#/
Barcelona, 25th February 2019: Planet Computers is exhibiting at Mobile World Congress 2019, as part of the official UK delegation. Planet will showcase Cosmo Communicator – the latest product from Planet Computers. Cosmo is a clamshell smartphone with external and internal touchscreen displays and a physical backlit keyboard.
Cosmo is designed to be a true all-in-one communicator, with dual 4G connectivity, a high-resolution camera and a full QWERTY keyboard. Cosmo is the second handset developed by Planet Computers, following the successful launch of Gemini in 2018, which raised more than $2.5 million in investment.
Cosmo is a great phone, a great camera and a great computer in one pocketable device. It features:
Full backlit physical keyboard
Secondary 2" external colour touchscreen
Android 9 (Pie) OS
24 MP external camera
Fingerprint sensor
NFC capability
Powered by an 8-Core Mediatek P70 processor, with 6GB of RAM and 128GB of internal memory (extendable via a microSD card), Cosmo is powerful enough to keep people connected and productive wherever they are.
The device features a large battery for up to two days of use, dedicated voice assist controls, 6-inch internal colour screen, dual 4G SIM capability (physical and eSIM), stereo speakers, two USB-C ports for charging and connecting peripherals, and an advanced ARM Mali G72 graphics processor – enabling users to benefit from the productivity offered by a physical keyboard without needing to carry a secondary mobile device or laptop.
Dr Janko Mrsic-Flogel, CEO of Planet Computers, comments: "Cosmo is the next milestone on the Planet Computers journey. This is truly an all-in-one mobile device that delivers productivity on the go. The incredible reaction to our crowdfunding – where Cosmo reached its target in less than four hours – shows how much people miss a physical keyboard on mobile devices. Being part of the UK delegation at Mobile World Congress enables us to showcase our products to the global mobile community."
For the latest updates on the Cosmo Communicator Indiegogo campaign, please visit: https://www.indiegogo.com/projects/cosmo-communicator
PLANET COMPUTERS ANNOUNCES AVAILABILTY OF OXI ON GEMINI PDA
OXI transforms Gemini PDA into desktop workstation
OXI subscription will be available when purchasing official HDMI cable from Planet Store: https://store.planetcom.co.uk/collections/accessories
OXI on the Gemini PDA on show at Mobile World Congress 2019 – visit Planet Computers in Hall 7, Stand 7K40
MOBILE WORLD CONGRESS, Barcelona – 25th February 2019: Planet Computers, in conjunction with mobile software developer Auxens, announces the availability of OXI for the Gemini PDA. OXI is an Android-based virtual operating system that enables users to run both mobile and virtual applications in a multi-window desktop environment.
By connecting the Gemini PDA to an external display, OXI provides a fluid desktop user experience: reducing mouse latency and enabling easier access to CPU resources, as well as providing the ability to launch business applications such as Adobe Photoshop and Microsoft Office. OXI enables users to edit documents and complete multiple tasks simultaneously in different windows, while still being able to use the Gemini's large 5.99-inch screen – including the ability to take calls and send/receive messages.
The Gemini PDA links to an external secondary HD display and runs OXI via Gemini's USB-C to HDMI accessory. Windows can be resized full screen with the touch of a button for maximum productivity and to streamline workflows. Push notifications appear on the right hand side of the desktop display, so users never miss the latest notifications.
Dr Janko Mrsic-Flogel, CEO of Planet Computers, comments: "The smartphone is essential to the way people work. Gemini was designed to offer something unique to the mobile handset market: a productivity tool that allows users to work and play from a single device with an integrated keyboard. Our collaboration with Auxens takes this to a whole new level – creating a multi-window desktop experience from a PDA."
Laurent Alaguero, President of Auxens, added: "By connecting your Gemini PDA to a monitor or dock station, OXI allows you to use it as your main computer – meaning your entire digital environment now fits in your pocket."
PLANET COMPUTERS AND JOLLA LAUNCH SAILFISH X FOR GEMINI PDA
The official Sailfish X now available for Gemini PDA
Meet Planet Computers at MWC: Hall 7, stand 7K40
Support Planet's new Cosmo Communicator on Indiegogo: https://www.indiegogo.com/projects/cosmo-communicator#/
Mobile World Congress, Barcelona, 26th February 2019: Planet Computers and Jolla jointly announce the availability of the official version of Sailfish X for the Gemini PDA.
Sailfish X is a downloadable version of Sailfish OS, the popular alternative mobile operating system. The Sailfish community offering is now extended to include a fully supported version of the Linux-based Sailfish OS for the Gemini PDA.
The official Sailfish X software package features a suite of advanced functions, including seamless over-the-air (OTA) OS updates, Jolla Store access, end-user support, Microsoft Exchange support and, crucially for Gemini users, support for landscape user-interface (UI). The cost of Sailfish X for Gemini is €29.90 (incl. VAT) and it is currently available for customers within the EU, Norway & Switzerland.
One of the most popular Indiegogo projects of 2017-2018, raising more than $2.5 million, Gemini re-imagines the PDA in a clamshell mobile device with a fully functioning physical keyboard and a large (5.99 inch) multi-touch colour display. Gemini enables users to type emails, blogs and social media posts easily on the go.
Dr Janko Mrsic-Flogel, CEO of Planet Computers, comments: "The decision to offer Sailfish OS on the Gemini came about following strong demand from both the Gemini and Jolla communities. The Sailfish device family is joined by the Gemini PDA with its fully-integrated multi-lingual keyboard. This provides Sailfish users with an all-in-one mobile device to type and create on the move."
Sami Pienimäki, CEO of Jolla, says: "We have been excited to see Planet Computers' offering to take off so well with already a second successful PDA device crowdfunding campaign, the Cosmo Communicator. We are delighted to extend our community offering, Sailfish X, to officially support Gemini PDA devices. This is a perfect example of a community collaboration, which has been developed further and now productized. We're looking forward to continuing our collaboration with Planet in their upcoming devices."
-ends-
The post MWC – Cosmo Communicator and Gemini Updates is original content from Coolsmartphone. If you see it on another news website, please let us know.
Source: CoolSmartPhone.com News