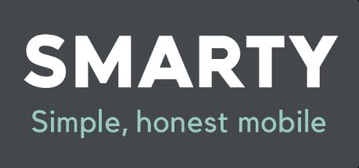 The simple SIM only network from Three (covered earlier here) has a straightforward offering. There's three packages – either a 2GB one for £7.50 per month, a 4GB one for £10 or an 8GB for £15. All have unlimited calls and unlimited texts. You just need to find a phone to put the SIM card into.
The network already offers benefits such as money back for unused data and online support, but now they're adding roaming and international calling too. Details can be found here and, as we've come to expect in the EU, you get everything working like home. Outside of the EU you'll need to check charges here and costs come out of your cash balance. If you don't use all your cash balance, you can choose to put that money towards your next month or you can use it next time you need it. Just pay as you go and ensure that you have performed the one-off phone settings update to make it work.
Back in the UK it's worth noting that SMARTY allow tethering and hot-spot with no speed restrictions – it just comes out of your data allowance. If you run out of data it's £1.25 per GB.
Full details below..
SMARTY ADDS ROAMING TO ITS UNIQUE NETWORK OFFERING
-SMARTY allows users to control their usage outside the EU with a prepaid structure-
– SMARTY offers low cost, SIM-only plans, transparent pricing and flexible deals –
-Users receive credit for unused data-
SIM-only mobile network, SMARTY, has added roaming and international calling to
its existing proposition.
In an effort to eliminate holiday 'bill shock', the network – which launched in August
2017 – is offering transparent prepaid options for calling and texting whilst abroad.
SMARTY customers travelling within the EU will be able to use their plan as normal.
Everything works exactly as at home, with data and unlimited calls and texts, there's
no hidden charges and no extra costs.
For those travelling outside the EU, the service will operate on a pay-as-you-go
system. Customers will need a cash add-on, top up their cash balance and then just
pay as they go – meaning they only pay for what they use, and not a penny more. If
the entire cash balance isn't used, then this can be put towards the following month's
plan.
SMARTY has been designed to give customers the freedom and flexibility to manage
mobile the way they want and to provide unrivalled value. The network offers three
simple monthly plans – with no contract, no credit check or strings attached.
Standard UK calls and texts are unlimited, there's a choice of data and out of plan
pricing the same as in plan. In what is a UK mobile market first, SMARTY even gives
customers money off their next phone plan for data they don't use, valued at £1.25
per GB.
The three SMARTY plans are as follows (all of which come with unlimited calls and
texts):
Small (£7.50 for 2GB of data)
Medium (£10 for 4GB of data)
Large (£15 for 8GB of data)
In addition to roaming, the network's international calling offering is also now live,
with SMARTY users being given the opportunity to text and make calls from the UK
to friends and family around the world. This is also based on a pay-as-you go
system and customers simply need a cash add-on. They top up their cash balance
and then just pay as you go.
Those on an existing SMARTY plan will need to make a one-off change to their
phone settings for their SIM to work abroad.
The post SMARTY goes roaming. is original content from Coolsmartphone. If you see it on another news website, please let us know.

Source: CoolSmartPhone.com News