Vodafone operate a scheme called the "Community Connection Award" where it donates money to great causes across the UK.
Today we have received information of a £1000 donation made in Weymouth to help young people in the area. This will go to the "STEPPs Club For Young People", which was created way back in 1964 as Weymouth Boys Club. The club could have closed in 2016 when Dorset County Council ceased funding, but was saved when STEPs took over. Now over 3,000 young people have joined.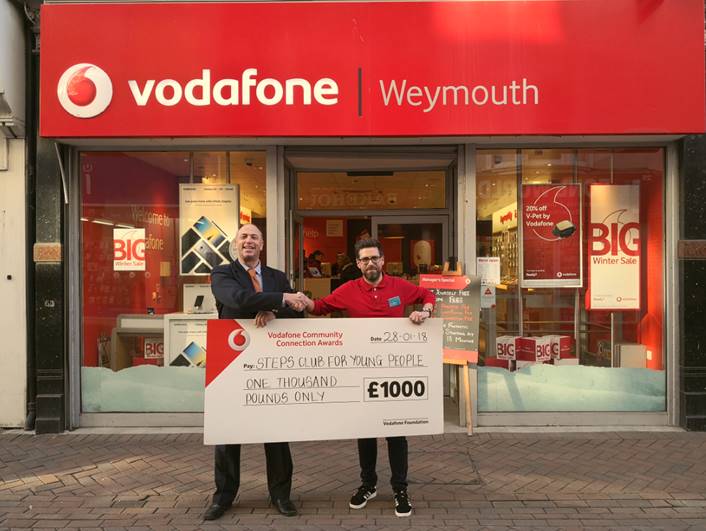 Previous donations to other charities of £1000 have been used to help build an Autism Library, purchase special medical equipment for taking blood samples, getting clothes for children and to run social activities.
For more information check out the press release with links below.
STEPs Club For Young People receives £1,000 award
Vodafone award will help fund activities for young people in Weymouth
29th March, 2018: Members of STEPs Club For Young People are celebrating after receiving £1,000 from Vodafone UK. The charity collected the Vodafone Community Connection Award last week after staff in its Weymouth store chose the deserving cause.
STEPs Club For Young People – founded in 1964 as Weymouth Boys Club – opened a brand new centre in 2013 following a £3 million capital grant from the government's Myspace Programme. The club was set to close in 2016 when Dorset County Council ceased funding for all youth centres in the county, and was saved by the charity STEPs who took over the running. Since the new centre opened 5 years ago, over 3,000 young people have joined the club and benefitted from the activities available. Each year, the charity requires substantial fundraising to cover building maintenance costs, staff salaries and to run its programme of activities for young people.
Tom Lane, Principal Youth Worker at STEPs Club For Young People entered the charity for the award and said "Our work provides young people with educational and developmental opportunities as well as crucial support. Currently, our focus has been on improving young people's health as well as enabling them to gain confidence and develop self-esteem and a range of skills. On behalf of the trustees, staff and young people, I'd like to express my sincere thanks to Vodafone and those who nominated us for this fantastic award, which will be put towards funding new activities and projects at the club."
Vodafone's Community Connection Awards, launched in 2014, have already made a difference to more than 160 local communities across the UK. Selected by local Vodafone staff and aimed at supporting local causes, the awards have been used to help support everything from new equipment for soup kitchens and day centres for the elderly to helping people with disabilities take part in sporting activities.
Chris Stewart, Vodafone Store Manager in Weymouth said, "We are delighted to be able to help STEPs Club For Young People – they do amazing work helping to engage young people in Weymouth. It's a pleasure and a privilege to support the hard work and dedication shown by Tom and all of the other volunteers."
Check out how some charities have already used their Community Connection Award, or for further information on the Vodafone Community Connection Awards please see Vodafone Social, the official Vodafone blog: http://blog.vodafone.co.uk/2015/02/02/vodafone-community-connection-awards/
The post Vodafone help young people with £1000 donation is original content from Coolsmartphone. If you see it on another news website, please let us know.

Source: CoolSmartPhone.com News