Two UK networks have both announced new offerings today. Three and Vodafone. First, it's Three…. well, actually it's a new network called "SMARTY" – and yes, that's all in capitals. They piggyback off the Three 4G network and they tell us that they are going to be the "simplest and most flexible mobile network around".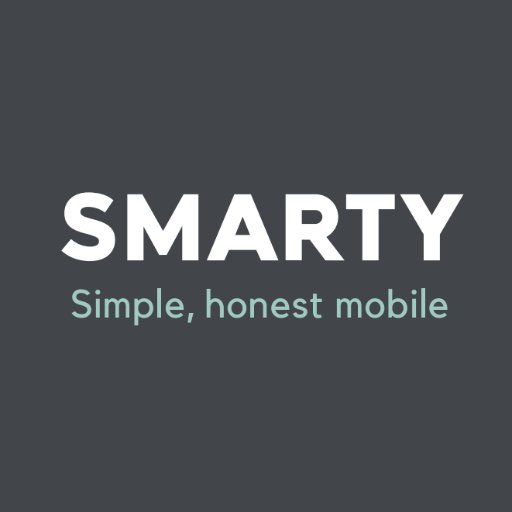 You may already know that other networks – such as MVNO Sky Mobile, let you roll-over unused data at the end of the month. Here SMARTY will offer a refund on any data you don't use. The cash value of unused data is auto-deducted from your plan next month.
If you go over (instead of under) your allowance, SMARTY have a blanket price of £1.25 per GB of data that you use. They promise that "out of plan pricing the same as in plan". So hopefully no hugely nasty surprises if you download a bit too much.
So, they have three plans and, to make things simple, all come with unlimited calls and texts. They are as follows…
Small (£7.50 for 2GB UK data)
Medium (£10 for 4GB UK data)
Large (£15 for 8GB UK data)
They've not got roaming available just yet and you can't call abroad either, so this is currently a UK-only solution in many ways, but they are said to be working on this.
This SIM-only network seems to be keeping things simple, but you still get the grunt of the Three 4G network for no extra cost. If you're interested in taking a look, head to Smarty.co.uk, where you can also check the coverage.
Oh, and who exactly are they? Well, we had a dig down into their Terms and Conditions and they appear to have an office address of Star House 20, Grenfell Road in Maidenhead. The very same address of UK network Three…
… and they're cheaper..
SIMPLEST AND MOST HONEST MOBILE NETWORK EVER LAUNCHES
– New mobile network SMARTY promises to be the most honest and flexible ever –
To paraphrase a clever chap called Albert Einstein: everything should be made as simple as possible. It's hard to argue with Albert. In a world where we insist on making things complicated, simplicity is in short supply.
For some people this speaks to their experiences of mobile networks. The sheer number of plans on the market can be confusing, while the plans themselves can seem complicated and inflexible, with some feeling that they don't have control over their mobile plans and how much they are spending toward them. What's more, there are many consumers that simply dislike mobile contracts and the commitment they call for.
So for those that crave the a simple, transparent and easy mobile life, say hello to SMARTY: the simplest, most honest mobile network ever made, and it launches today: www.smarty.co.uk
Honesty reigns supreme on SMARTY, with customers only paying for the data they use, and not the data they don't. In what is a UK mobile market first, the network will automatically deduct the monetary value of any unused data a customer has at the end of each month from the following month's plan, meaning there's potential for pounds to land back in your pocket monthly. It's a unique new type of perk that is unlike anything that's come before it.
With SMARTY, there are no contracts – just three simple monthly plans. Standard UK calls and texts are unlimited and there is a £5 monthly service charge. Out of plan pricing is also the same as in plan, meaning no nasty surprises when it comes to topping up. There are no strings, no small print and definitely no asterisks.
SMARTY is a SIM-only mobile network operating on the Three network with 4G offered at no extra cost. It has been designed to give customers the freedom and flexibility to manage mobile the way they want and to provide unrivalled value.
The three SMARTY plans are as follows (all of which come with unlimited calls and texts):
· Small (£7.50 for 2GB UK data)
· Medium (£10 for 4GB UK data)
· Large (£15 for 8GB UK data)
In what is another UK mobile market first, SMARTY will employ a blanket price of £1.25 per GB of data you use each month, no matter what plan you're on, reflecting the network's dedication to honesty and fairness throughout. The data discount – again available on all three plans – will also be valued at £1.25 per each unused GB of data, with absolutely no catches to speak of.
Behind the simplicity of SMARTY is digital technology that offers customers great value, fairness and ease of use. In addition to offering a refund on the data that you don't use at the end of each month, SMARTY also allows customers to simply and quickly switch between plans at will each month. It's up to them and all it takes is the touch of a button or the swipe of a finger.
Elin McLean, General Manager for SMARTY, said: "There is currently a wide variety of different mobile plans and tariffs out there, and these suit a lot of people. That said, we know that many others are looking for more simplicity and honesty from their network. They may not want to commit to a contract and want the freedom to manage their mobile in line with their lifestyles. That's where SMARTY comes in.
"SMARTY sets out to change the UK mobile market as we know it – putting the power in the customers' hands by offering the simplest and most honest mobile network experience ever. The unique perk of being given a discount for any data you don't use at the end of each month is unlike anything that's been offered by a UK network before. This benefit, coupled with the fact we also offer a blanket cost for each GB of data you use across all our plans, reflects our ambition to deliver a smart and cost-effective mobile option that provides customers with immense flexibility when it comes to managing their data usage."
The post New UK network, SMARTY, hopes not to be pants. is original content from Coolsmartphone. If you see it on another news website, please let us know.